MON - CLOSED | TUE-WED 10-5 | THUR-FRI 10-6 | SAT-SUN 10-5
closed christmas day, boxing day & new years day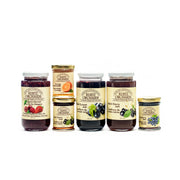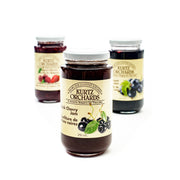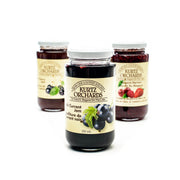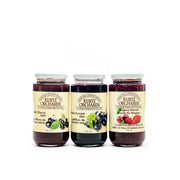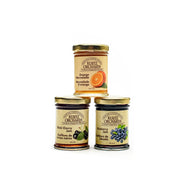 Kurtz Orchards Jam
Product Info
Kurtz Orchard Jams uses fresh Canadian Ontario grown fruit. From tree to jar.
Black Cherry: Farm Fresh Black Cherry Jam is fresh from Kurtz Orchards Family Farm in Ontario.
Black Currant Cherry Apple Fruit Melange: This fruit melange uses 100% grown Farm fresh Fruits! This delicious combination of Apples, Cherries and black currants will be a family favourite. All natural.
Niagara Harvest Jam: Our Farm Fresh Niagara Harvest Jam is fresh from our Family Farm. Luscious combination of Strawberries, Raspberries and Cherries!
Mini Assorted Jams: Mix and match four of your favorite jams in our mini assorted four pack deal! Choose from a wide variety of fresh fruity jams to transform your breakfasts and meals. Each mini jam is 64 ML 
Support Local
Browse from our selection of Muskoka made products from farms, producers, and creative talents in the area.
Muskoka Made